Wife + Marketing Manager + Hip Hop Dancer
Welcome to my shining world,
I'm a French immigrant + wife + marketing manager + hip hop dancer. I'm now living my American dream in California.
Don't hesitate to look at my collection and contact me anytime. I'm always ready for new deals. I'm reliable and want to enjoy this experience from day 1. I will ship items on one same day each week ASAP and in good conditions.
TRADE RULES: I expect the clothes marked as "excellent" to look like new without tags and if something is wrong/has a hole/ sthg missing on the item, PLEASE be honest and describe it before trading. I will always do it on my part.
My sizes: 34B bra 8.5 shoe M
My wish list: ❥ Bath products ❥ Rompers ❥ Home deco ❥ Fancy hat ❥ Baking stuff ❥ cool hair accessories…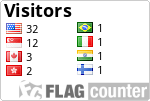 Displaying 1 comment
Displaying 1 comment